The Light Bulb Security Camera improves your home's security without requiring you to invest in one of the market's more expensive systems. You can screw this wireless security camera into your exterior light and instantly have your own security system. With the surveillance camera, you can control and move it in several directions, scare off intruders with a light, and improve image quality in low light.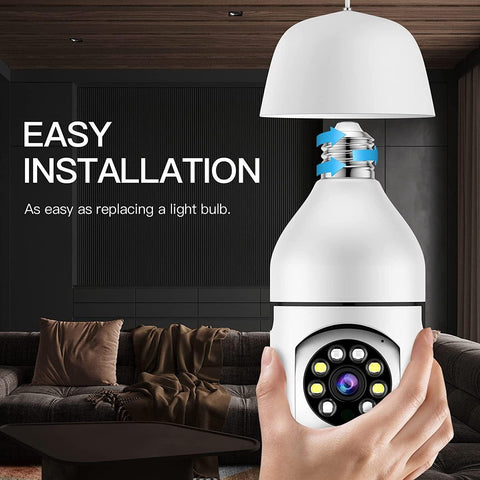 BRING YOUR SECURITY TO THE NEXT LEVEL
Our Light Bulb Security Camera improves your home security without having to invest in one of the market's costly security systems. This wireless security camera can be screwed in wherever your exterior light would be, and instantly you've got your own security system in front of your home. The surveillance camera can be controlled and moved in several directions, features a light to scare off intruders, and improves image quality in dark conditions.
FEATURES
High-Definition Recording: The Wireless Light Bulb Security Camera allows you to record in 1080p and supports up to a 128GB SD Card to maximize the quality and size of every recording.
Easily To Install:

No messy wires or socket adapters, Our Light Bulb Camera fits your standard light bulb socket, just screw it in and you're ready to go!
Motion Detection Technology:

Comes with a built-in motion detector that will instantly notify you once the camera detects movement, automatically saving and sending you pictures of the area.
Remotely Controllable

:

It comes with an easy-to-navigate mobile app that allows you to download, pause, and playback any recording, all from the comfort of your phone.
Nocturnal Security:

The Built-In LED Light means you can protect your home at night as well as during the day.
Cost-Effective

:

​

Improve your security without breaking the bank! Our Security Camera Light Bulb offers excellent value for your money.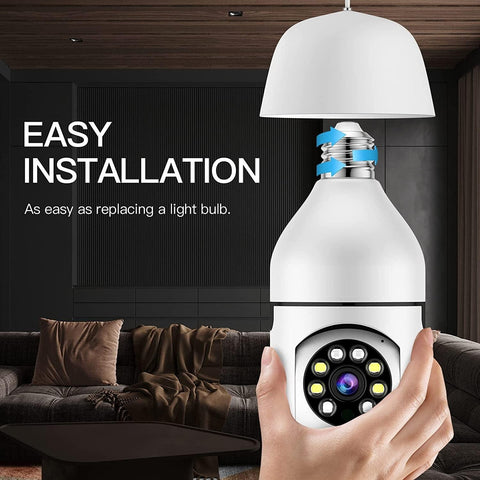 ACCESS YOUR FOOTAGE ANYWHERE!
Footage from our Wireless Outdoor Security Camera can be easily accessed through an app on your phone, and its 360-degree field-of-vision means you're not left with any potentially vulnerable blind spots. It even comes with a built-in microphone and speaker, meaning you can have a conversation with anyone that comes to your door. With this Light Bulb Security Camera, you'll feel safer, more secure, and more confident knowing your home will be okay in your absence.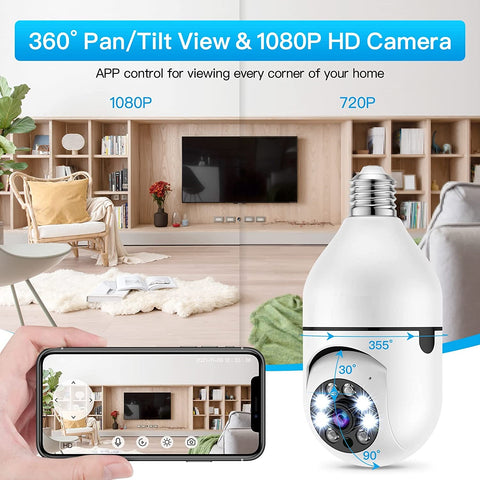 HOW MANY DO I NEED?
For every 2-bedroom home, we recommend purchasing two or more, a unit for the front yard and backyard to maximize the area of protection. If you frequently leave the house, we recommend starting with a unit near each main entrance to the home.
SPECIFICATIONS:
Camera:

Resolution: 1080P Full HD / 30 FPS
Night Vision: 33 Feet (10m)
Network Connection: WiFi/AP Hotspot
Socket: E27 Bulb Base (Fits Your Standard Socket)
Storage: SD Memory Card (Max 128G) / Cloud Storage
Luminance: 12000 Lumen
Waterproof Rating: IP65
Material:

Premium Quality ABS
High-Quality Glass
Aluminum Alloy Wiring
Package Includes:

1 x Light Bulb Security Camera
1 x E27 Bulb Socket
2 x Mounting Screws
1 x User Manual