Try new experience, use it to record your personal vlog, share your life with others and meet more friends.

Omnidirectional Wireless Clip-on Microphone :
The microphone is 360° omnidirectional pickup with high sensitivity and large pickup radius. It captures the sound around the microphone clearly and accurately, helping you achieve high quality recordings.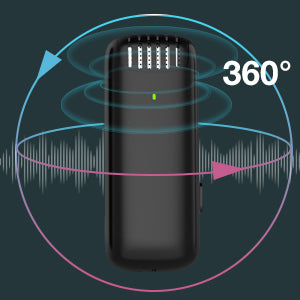 Intelligent Active Noise Reduction :
 Built-in intelligent noise reduction chip, 3 levels of adjustable active noise reduction, high signal-to-noise ratio (SNR), strong anti-interference ability, can minimize environmental noise, effectively reduce the human voice burst, echo, so as to record a more professional and clear audio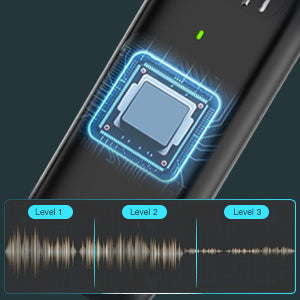 Stable & Long Distance Transmission :
 Bluetooth 5.0 transmission technology, strong anti-interference, stable, low latency wireless transmission, no need to worry about connection interruptions, transmission distance up to 65 feet (no obstacles).
Adopt real-time auto-sync technology to effectively reduce post-editing of videos and provide a better viewing experience for you and your fans.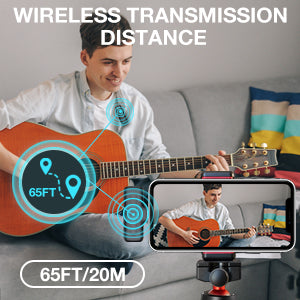 Ultra-Long Battery Life :
Built-in 500 mAh battery, this portable charging case can recharge the lapel microphone more than 6 times. Can work for 6-8 hours after one full charge Supports 2-3 days of use.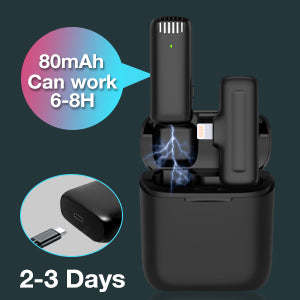 Real-time Monitoring of Recordings :
 Just plug the Type-C earphone into the microphone, you can know whether it is working properly during recording and monitor the audio status to finish recording at once, giving you a more professional and convenient recording experience.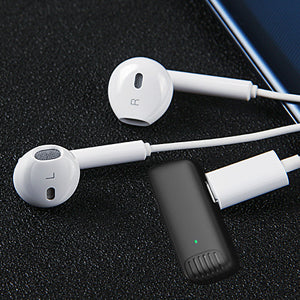 Mini & Portable Design :
The microphone is only 10g, so you can hardly feel the weight when wearing it. When not in use, you can store the receiver and transmitter back into the case and put it in your pocket, and you can carry it wherever you go without worrying about losing parts.