Convenient, Fast Charge Anytime Anywhere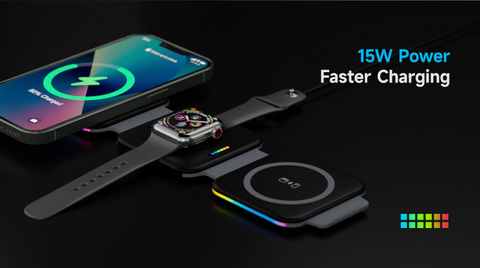 This 3 in 1 Foldable Wireless Charger is the perfect device for those who need a reliable and flexible charging solution.
With the ability to simultaneously charge multiple devices like Androids, iPhones, Apple Watches and Airpods you will never have to worry about running out of juice with your favorite gadgets again.
The foldable design also makes it easy to carry around so you can always keep your devices powered up while on the go.
With this 3 in 1 Wireless Foldable Charger you will always have the power you need whenever and wherever you go!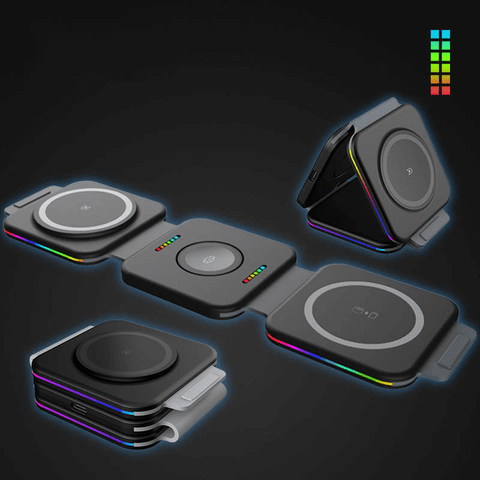 Multifunctional: Made to charge a variety of different devices including Androids, iPhones, Apple Watches, Smart Watches and Airpods.
Portable Design: Small pocket sized design allows you to take the 3 in 1 foldable wireless charger anywhere you go for a fast convenient charge for your devices.
Wireless Fast Charging: 15 watt charger ensure a quick charge. Equipped with hybrid charging so you can charge different model devices at the same time.
Case Friendly: With this Foldable Wireless Magnetic Charging Station you can charge your devices with or without their case on for additional convenience.
Our Guarantee
If for whatever reason you are not happy with the 15W Foldable Magnetic Charging Station let us know and we will offer a refund no questions asked.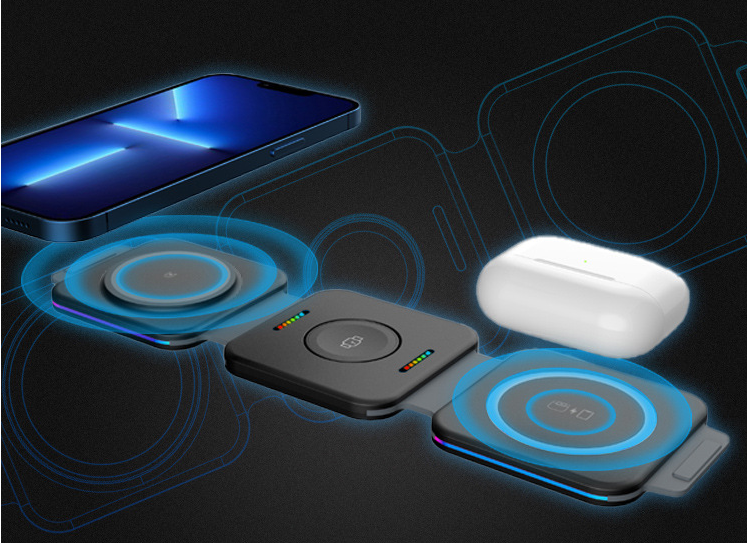 Product information:
Model: W15 Foldable 3-in-1 Wireless Charger
Input parameter: 9 (V)
Output parameter: 9 (V)
Charging current: 2 (mA)
Interface: USB
Color: White & Black
Size: 10.15" x 2.8" x 0.43"
Compatible Devices
AirPods: 2 / 3 / Pro / Pro 2
Apple Watch Series: 6 / 5 / 4 / 3 / 2 / SE
iPhone
14 / 14 Pro / 14 Pro Max
13 / 13 Pro / 13 Pro Max
12 / 12 Pro / 12 Pro Max
11 / 11 Pro / 11 Pro Max
XS / XR / XS Mas / X / 8 / 8 Plus
Samsung Galaxy
S21 / S20 / S10 / S9 / S8 / Plus / S7
Packing list:
1 x 15W Foldable Wireless 3 in 1 Magnetic Charging Station