Say goodbye to annoying cables with the Wireless Charging Dock! The Smart Station has been redesigned to allow you to charge even more devices. With its sturdy design and 4 in 1 charging capability, you will never have to untangle a wad of cables again!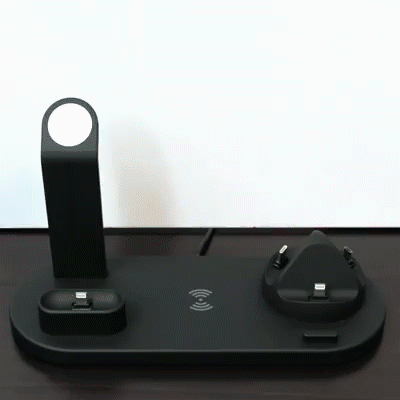 4 in 1 Wireless Charger Stand - The multifunctional charging stand with iPhone/Micro/Type-C interfaces can charge for almost all mobile devices, such as iPhone, iPad, Samsung, LG, HTC, Huawei, Sony, and the charging dock can be freely rotated by 350 degrees.

Compatibility - Universal Compatible for iWatch series iWatch 4/3/2/1, Airpods and iPhone Xs / Xs Max / Xr / X / 8/8 Plus/Samsung Galaxy S10/S10 Plus/ S9 / S9 Plus / S8 / S8 Plus / S7 / S7 Edge / S6 Edge Plus / Note 9 / Note 8.

Charge Forward - The charging station uses the most advanced automatic control technology. Built-in safeguards against overcharge, overcurrent, and overvoltage protection, temperature control, foreign object detection. Guards your device battery against overcharge damage.

Best Quality - Innovative Silicone Material, Without scratching of your iPhone/iWatch/AirPods blocking the screen or edge. Perfectly decorate your bedroom, study, hall, office desk.

Easy Installation - Just Install the original apple cable into the stand, then it can work as a charging stand for you. Hide the long redundant cables, make your desk or nightstand neatly and organized.
Precautions for installing the watch stand:
Step 1: Insert into the hole.
Step 2: Fix firmly, you need to push one side forward and then push the other side.
Frequently Asked Questions
Will this work with a case on my phone?
Yes, the Smart Station will charge your phone wirelessly with your case on your phone. We typically see the best results with thin plastic or rubber cases under 5mm in thickness.
Is this safe for my phone?
Yes, it uses advanced automatic control technology. It has built-in safeguards against overcharge, overcurrent, and overvoltage. Additionally, it is temperature-controlled and has foreign object detection technology. With the Smart Station, all devices will automatically shut off when they are fully charged preventing unnecessary battery damage.
The bottom of the Wireless Charging Dock is fitted with 8 sturdy rubber footings to ensure it stays in one place.
Does this charge fast?
The Wireless Charging Dock is not just quick, or even swift for that matter. The Smart Station is blazing fast!
With built-in upgraded charging coils, your smartphone will charge up to two times faster than ordinary wireless chargers. The wired chargers on the Wireless Charging Dock are also top-of-the-line quality and charge as fast (or in some cases even faster) than the stock chargers provided with your device.
Is this compatible with my device?
The Wireless Charging Dock is compatible with a wide range of devices. The rotatable interface houses three different charging cables including the Lightning, Micro USB, and USB Type-C cables. This means that nearly every Smartphone and Tablet can be charged with the Smart Station!
The center portion of the Wireless Charging Dock has wireless charging capabilities. It can charge all QI-enabled devices.  
Apple iPhone: XS Max XS, XR, 8, 8 Plus,
Samsung Galaxy: S10 Plus, S10, S10e, Note 9, S9, S9+, Note 8, S8, S8+, S7, S7 Edge
Sony: Xperia XZ3, Xperia XZ2 Premium, Xperia XZ2 (Plus more devices)
LG: G7 ThinQ, V30, G6 (US version only), G4 (optional), G3 (optional) (Plus more devices)
Nokia: 9 PureView, 8 Sirocco
Huawei: P30 Pro, Mate 20 Pro,
Microsoft Lumia: 1520, 1020, 930, 929, 928, 920
Google: Pixel 3 XL, Pixel 3,
Nexus: Nexus 6, Nexus 5
BlackBerry: Priv
And many more!
All Apple AirPod models are compatible with the Wireless Charging Dock and the newest model, AirPod 2, is even compatible with the central wireless charger!
All Apple Watch series can be integrated with the Wireless Charging Dock. Apple Watch Series 1, 2, 3, and 4 support.
SPECIFICATIONS
Condition: New
Input: ⁄, 9v-1.8a
Charger output: dc 5v-1.5a
Wireless charger output: 10w/7.5w/5w
USB cable length: 1.2 meters
Size: 230 x 90 x 57.5mm
Color: White, Black
PACKAGE INCLUDES
1 x Wireless Charging Dock
1 x USB cable
1 x Manual