Are you looking for a vintage-style clock that will make your place the center of attention?
All you need is our Vintage Automatic Page Flip Clock. It is a page-turning vertical clock with a retro scale design and a metallic texture. A flip clock combines the elegance of classical design with the creative element of modern design, fine works, excellent quality, and an exquisite appearance for the ideal decorative effect. Because it uses a quartz movement, the time is accurate and easily adjustable. It has large numbers that are visible from a long distance. The clock can be used to decorate your home or as a gift for loved ones.
Why should you have this Vintage Automatic Page Flip Clock?
✅ Retro Design: A classic minimalistic design inspired by old train stations' split-flap displays. Any visitor to your home or office will be drawn to this clock. A great topic of conversation!
✅ Accurate Time: The flip clock has a quartz movement, so the time is accurate, and the blades can be removed and replaced at any time. The time can be easily adjusted, and the number on the map is large and visible from a long distance.
✅ Excellent Material: The retro flip clock is made of high-quality plastic material that is safe and environmentally friendly, as well as cold and heat resistant and long-lasting. This 12-hour AM/PM clock displays the hours and minutes beautifully.
✅ Great Decor: This retro clock is the best home and office decoration you'll ever come across. The clock's neat design makes it suitable for any room. The large numbers on the cards make it simple to read from a distance.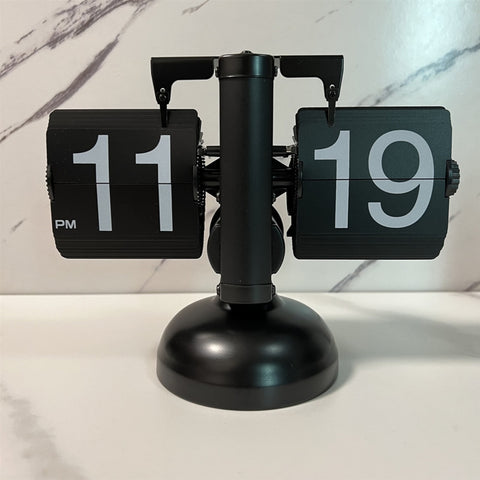 ✅ Ideal Gift: Give this automatic page flip clock to your friends and loved ones for their birthdays, Christmas, or any other occasion. Everyone will adore it, and you will receive numerous compliments on it.
Specifications:
Material:

Plastic

Size:

approx.21x8x17/8.27x3.14x6.69in

Optional Colors:

White/Black