Features:
NOT JUST ANY ORDINARY ALARM CLOCK...
Have You Ever Heard of An Alarm Clock with 180° Projection?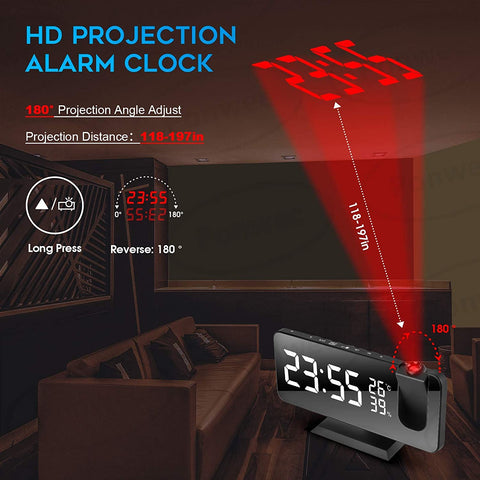 You can easily see the time on the ceiling while lying in bed, or you can plainly see the time within 30 feet of your bedroom, thanks to the 180° adjustable projector (-90° to 90°), 7.3"ultra-large LED display projection alarm clock.
The alarm clock radio can read in Mhz and is very easy to use.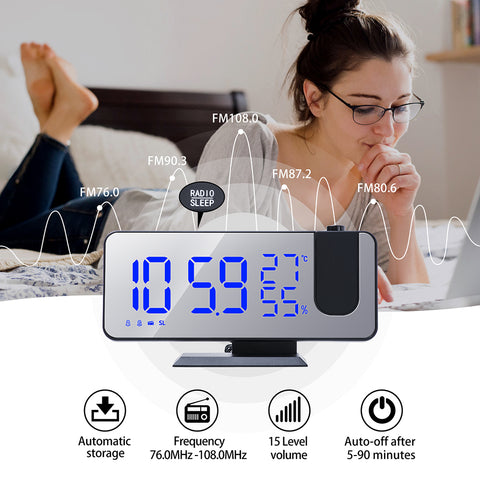 It has 15 FM radios and a sleep timer (76.0Mhz—108Mhz). It not only has the ability to automatically search, lock, and store stations, but it also has the ability to store an endless number of stations in a simple and convenient manner. Meanwhile, you can choose from a range of 0 to 15 levels to find the most comfortable listening volume. After the time you select the sleep timer (5-90 minutes), it will switch off.

Snooze Function and 4-Level Brightness Settings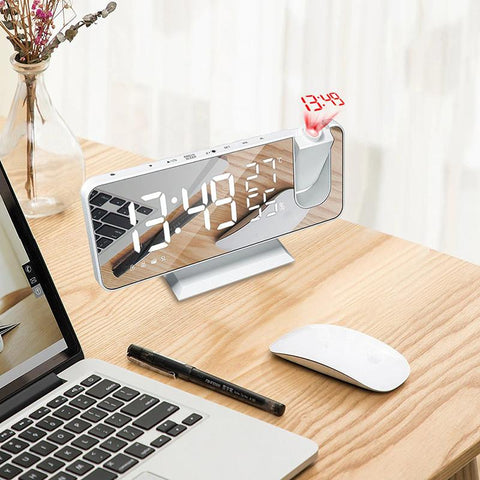 The three settings of Bright-Medium-Dim-Off cover all of your demands day and night. You can change the brightness manually or set it to Auto Mode. It will also change the brightness based on the environment, protecting your eyes and saving energy at night. The best o all this is that it can switch between a 12-hour and a 24-hour system.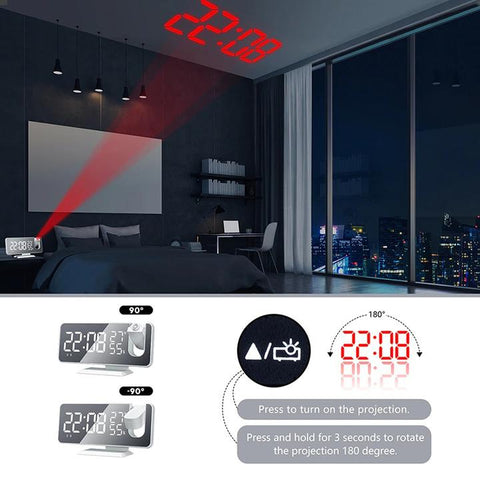 Memory Function & USB Charging Port
When you power the LED alarm clock, you may simultaneously charge your iPhone, tablet, and other electronic devices thanks to the 5V USB output interface. In the event of a power outage, the backup memory battery (included) can keep the clock running normally and recall the original time/alarm/radio/snooze settings, eliminating the need to reset.
More? Say No More!
- In addition to telling time, date, temperature, and humidity, it also has a Digital display.
- A great addition to any office, bedroom, or living room
- Can be used as a makeup mirror
- With 4 kinds of brightness setting
- Dual alarm function