The drain blaster uses the power of high-pressure compressed air to blast away the toughest clogs in your drains in just seconds.Just pump the drain blaster and squeeze the trigger, the clog is cleared instantly. Much faster than traditional plungers and snake and No more waisting time on drain openers.
It can deal with various blockages caused by all sorts of rubbish such as hair, cloth, tea, leaves, grease,oil dirties and so on.With high pressure air power, it clears drains quickly and easily.Perfect for works on sinks, tubs and toilets.
Dredge the pipeline, equipped with a variety of pipeline special plug.
Toilet, floor drain, sink, sewer, bathtub.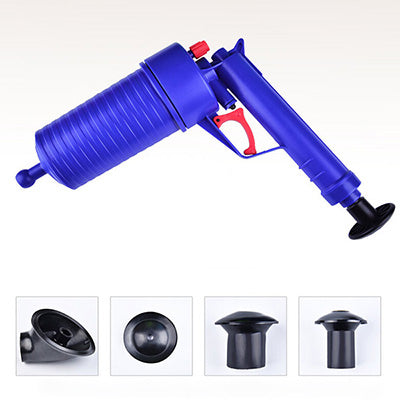 Pneumatic pipe dredger, powerful pressure, instant dredge compressed gas instant release caused strong pressure, jet out of the huge wind washed away the toilet or pipe plug.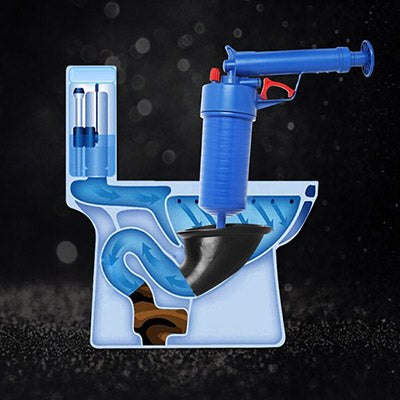 How to use:
Place a suitable suction cup on the gas cylinder, align the suction cup with the mouth of the toilet or the pipe mouth, dig a hole in the middle of the black bag (or cardboard), and then set the gun head and pull the trigger. If it is still blocked, repeat the above action;
Specifications:
Weight: 650g.
Gun Body Size: 27.5 x 28cm.
Material : ABS gun body, natural rubber blocked head.
Package Include:
1 x drain blaster.
1 x A toilet suction cup.

1 x Suction cup for sink.

1 x

 

Floor drain suction cups.

1 x A suction cup used in a bathroom.
Note:
Before used should be based on the size of the blocked pipe diameter, switch to select the appropriate gag to install the product to provide four different sizes of gag, the toilet choose the largest gag or the second largest plug mouth.
After the gag is installed, you can start to inflate the air reservoir by holding the handle firmly in the left hand and pumping the air pump lever with your right hand to complete several full stroke twitches at least 15-25 times until the pressure does not move.
Gagged tightly hold the small nozzle, if not closed, add water to make the water diffuse through the nozzle. At this point can trigger the trigger, hit the air flow, plugs in the pipeline should be followed by strong air washed away. If a failure, you can repeat this operation.