DESCRIPTION
Magnetic Levitation Globe: The Levitating Magnetic Globe is designed with electromagnetic levitation and float technology. Globe floating in midair by the magnetic force from the bottom and top of the frame. Each time you give it a careful spin, It will 360 degrees rotate smoothly for a while, then stops. no noise.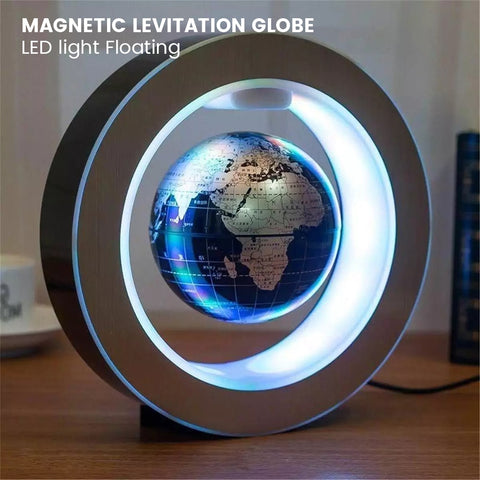 The magnetic ball floats stably in mid-air, floats, and rotates. Fashion elements + novel design. This high-tech product is also equipped with colored LED lights.

A feature that makes it look cool when opened in the dark. Electromagnet + magnetic field sensor.
The electronic control component makes the gadget float. This is an awesome high-tech gadget that people of all ages will love.

Widely used in advertising display, children's learning, education, and teaching novelty toys, home/office, desktop decoration, business gifts, art craft GIF, creative birthday gifts, and Christmas gifts.
SPECIFICATIONS:
Product Name: Magnetic Levitation Globe
Material: ABS Plastic, PCB, Coil, Magnet
Plug: EU
Type: Educational Toys
Ball Diameter: 8.5 cm
Base Size: 17.5X17.3X4.5cm
Product Features: C Shape, with LED Light, Antigravity, Novelty
Suitable Occasions: Home, Office, Desk Decoration
Color: (optional) Black, Blue, Gold