COMPLETE LEATHER REPAIR KIT
THE LEATHER REPAIR KIT: YOUR ALL-IN-ONE LEATHER REPAIR PRODUCT
For even the most cautious among us, damage will inevitably occur to our leather possessions – whether it's in the form of a cat scratch to a leather sofa, or tears and holes in a car's interior from normal wear and tear.
The Leather Repair Kit is the perfect solution to all small repairs in leather material.
ITS VERY EASY TO USE
Cost effective, and comprehensive, it is one of our most popular and highly-rated products among our customers.
THE KIT INCLUDES EVERYTHING YOU NEED!!!
Forget the hassle that comes from mixing and matching a number of different products to find a viable solution.
You will find:
Large Base Color (the color you choose when ordering)
Step by Step Instructions
Alcohol Cleaner (to clean the area before repairing)
Leather Glue
Heavy Filler
Canvas Sub Patch
Palette Knife
Sandpaper
Smaller Color Tints (used to adjust the base color)
Matt and Gloss Leather Finish (to adjust the sheen and seal the color)
Sponge, Stirrer and Mixing Cup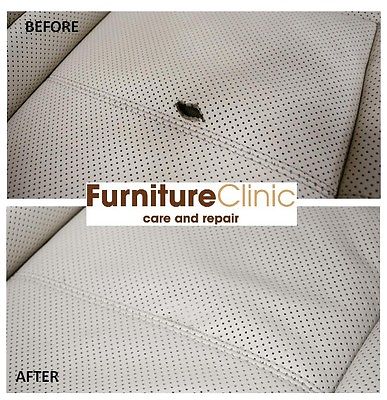 Better, faster and CHEAPER SOLUTION!!
It provides professional results on a budget.
This kit combines a range of our top-rated Leather Repair Products, ensuring that you can both complete the repair and guarantee longer-lasting results.
Suitable for use on leather items of all types, including furniture, car interiors, shoes, handbags, and clothing, the Repair Kit is as versatile as it is effective
This product is suitable for areas no larger than a tennis ball.
It is suitable for use on leather items with small areas of damage of all types: furniture, car interiors, shoes, handbags and clothing.
Safe to use on leathers including
Aniline & Semi-Aniline Leather
Pigmented Leather
Oil & Wax Pull Up Leather
BiCast Leather
Two Tone, Mottled & Antique Finished Leather