Protect yourself from spies and fraudulent surveillance with state-of-the-art intelligent detection. The K88 wireless hidden camera viewfinder and bug detector feature extended range, auto-detection, and longer battery life. Instantly detect radio frequency, magnetic field interference, infrared, and wired/wireless cameras.
Hidden camera and audio error message Our smart detectors are the best way to protect your family, your business, and your sanity. You can find GPS trackers, hidden cameras, phone connections, and all sorts of bugs. Built-in radiation protection allows you to scan your room safely and quickly. Accurate 360-degree tracking makes it easy to find hidden cameras and errors with hidden camera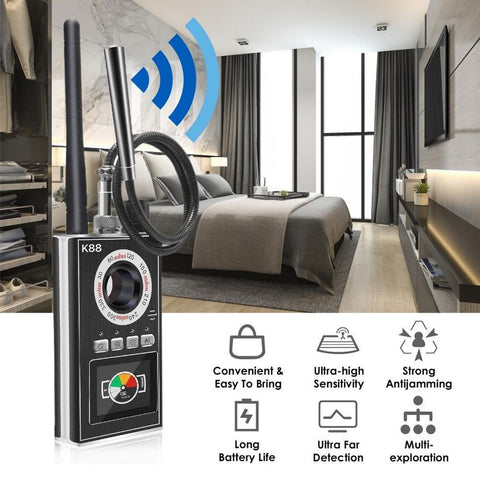 Characteristic:
Improved area With an impressive area of ​​40 square meters, you can now secure a larger room. The device detects at 360 degrees, so you don't have to worry about missing it because the detector isn't pointed directly at the device. It also has a 18000MHz wireless frequency detection function and a high-sensitivity scanning function.
Auto-discovery in standby mode You can receive auto-warnings in standby mode. Wherever you go, you're ready to detect hidden devices. It protects your privacy, even when you are sleeping.
Magnetic Field Detection With magnetic field detection, our detectors scan multiple device types at the same time. Detects magnetic field interference, 2G / 3G / 4G radio signals, hidden SIM cards, radio waves, infrared cameras. Hidden camera lens detector
45 days standby With an amazing 45 days of standby battery life, our detectors are the best spy trackers. It can be used continuously for up to 8-10 hours, or it can be in standby mode until a device is detected.
Safe and worry-free You don't want to worry about your health more than your privacy. Our detectors have built-in radiation protection so you can safely search for your device.
High anti-jamming ability Are you worried about your privacy while traveling or in the changing room? Our detectors have powerful anti-jamming features that always prove safe to the snooping eye.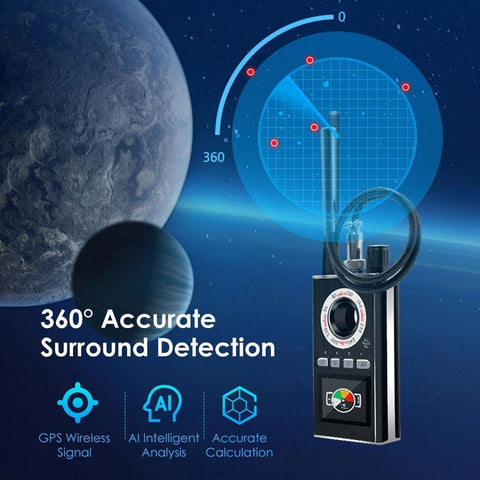 Specifications:
Size: 11.5*5.5*2cm/4.53*2.17*0.79in
Weight: 170g
Battery capacity: 500MA (45 days long standby)
Working current: 80-150MA
Charging time: 2 hours continuous working 8-10 hours
Detectable frequency: 1-8000mhz
Working area: 40㎡
OUR GUARANTEE
We believe our products can help people's everyday lives, and we fully stand by our products. We offer a risk-free 30-day guarantee on all our products. If you don't have a great experience, we will ensure you are satisfied with your purchase.