Your best self starts with your best sleep. With the G Lamp Wireless Charger Bluetooth Table Lamp, you can connect your phone thru Bluetooth, you can create your own customary sleep aid. Built with white noise to help you fall asleep, stay asleep and wake up refreshed.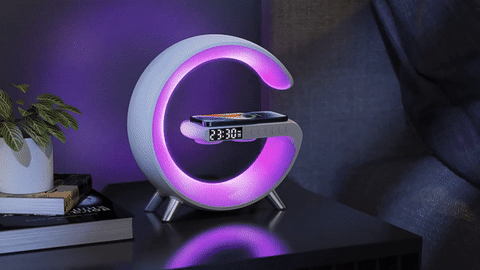 FEATURES AND BENEFITS:
Multi-functional wireless charger atmosphere lamp: It is not only an atmosphere lamp but also has 15W fast wireless charging, Bluetooth speaker, music, sleep lamp, sunrise wake-up lamp, atmosphere lamp, bedside lamp, dazzling light effect, Bluetooth audio, clock, alarm clock, etc.
Dimmable atmosphere light: Click the bulb button to switch 10 light color modes (solid color, bicolor racehorse, tricolor racehorse, and seven color racehorse).
15W fast charger: G-shaped design, with Max 15W fast wireless charging function. You can use this lamp in any place where you need to charge your mobile phone.
Clock function: Built-in clock function, this table lamp is convenient for you to check the time at any time while working, studying, reading, and sleeping.