Do you want to host the ideal happy party with lights and music to make it special?
You only need these Smart Firework LED Lights. It displays all the colors of the rainbow in a single line. You can enjoy the wonderful atmosphere it creates while taking in your lighting visual feast. Fireworks Led Lights with a built-in, sensitivity-adjustable microphone will change color in time with the beats of the music, whether you're using them to start a wild party, play a challenging computer game, or set the mood for a romantic evening, a relaxing nap, or a party. You should try this LED firework light as a decoration.
Why should you have these Smart Firework LED Lights?
✅ Eye-Catching Firework LED Lights: These fireworks strip lights show a rainbow's worth of colors all at once in one line. The app also allows you to set 213 dynamic lighting modes and 16 million static colors, which can be used to create an immersive environment for any event.
✅ Music Sync Firework Lights: It will change color in time with the beat of the music in three different music rhythm modes with these music-sync fireworks lights. For your party, create a charming, humorous, and magical atmosphere.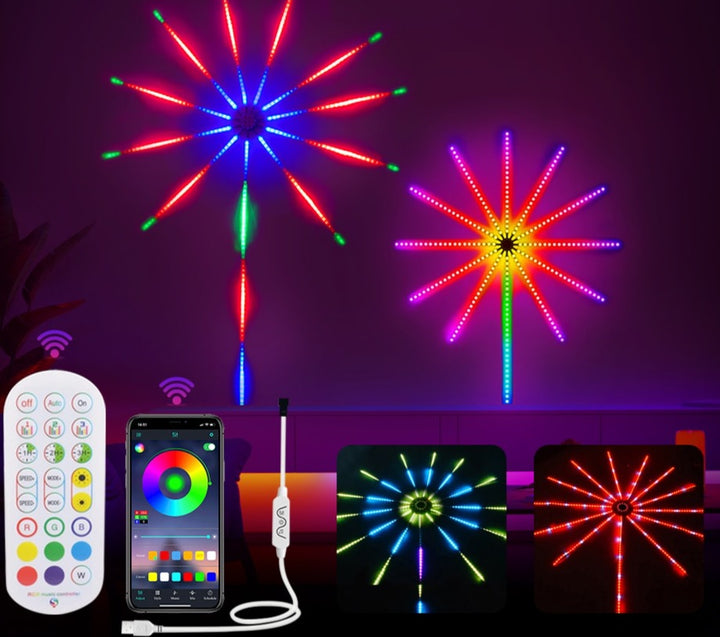 ✅ Bluetooth APP & Remote Controller: You can use an app on your phone or remote control to operate these fireworks strip lights. The APP, which is compatible with both Android and iOS systems, can be downloaded by scanning the QR code on the Bluetooth controller.
✅ USB Power Supply: For the power supply for the light, we selected a high-quality USB plug. It enables you to power the light with a computer, power bank, phone charger (not included), etc. You can use it without risk indoors.
✅ Easy Installation: Strong adhesive is located on the back of the led light strip for simple installation. Before installation, kindly wipe the wall clean. Fix the firework's core first, then rip off the adhesive backing from the light strip and fix it as needed.
Specifications:
Power Source:

DC

Specifications (light beads/m):

30

Strip type:

SMD

Power generation:

Switch

Waterproof:

no

Power Consumption (W/m)

: 4W/m

Is Smart Device:

YES

Voltage:

5v

Dream color:

YES

remote:

24keys

APP:

yes
Package Includes:
1.12×Short Fireworks Light Strip(Each is 0.5cm length)

2.1×Long Ray Fireworks Light Strip(1.5m length)

3.1×Wiring Board

4.1×Bluetooth Controller

5.1×IR Remote Control Cotroller

6.1×USB Power Cable

7.1×User Manual