This belt is a health-care waist-worn vibrating machine designed to promote smooth bowel movements, improve digestion and relieve constipation. The massager help remove stubborn fat in the waist, abdomen, legs and buttocks area. It also helps promote blood circulation, reduce swelling and relax tense muscles, providing effective pain relief for migraine and lower back pain. If you want to lose weight or get a perfect body shape, do an exercise on this belt for 5 minutes every day (5 minutes of high frequency vibration), 3 times a day.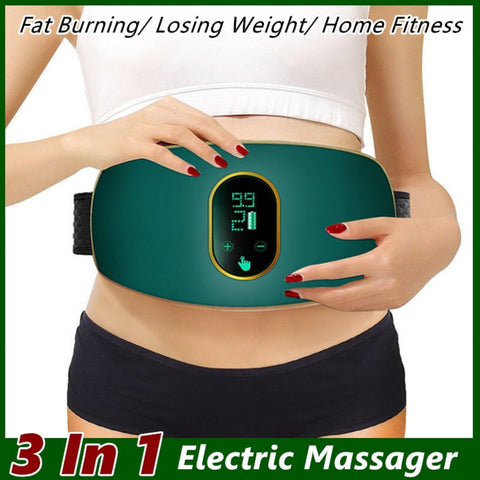 Hit that stubborn fat where it hurts the most! Our Electric Massager Slimming Belt is a high frequency vibration massager designed to rid you of your excess fat – fast. It's ideal for targeting upper and/or lower belly fat, and lets you target trouble spots like your love handles. Lose weight fast with our convenient slimming belt!
Treat yourself to an invigorating massage that reaches problem areas and helps detoxify the body.This belt is great for those who want to lose weight around the stomach, thighs, hips, arms and waist. Ideal for those who play sports or spend a lot of time in front of computer each day. It's lightweight, perfectly sized, and easy to use.
Features:
1. Promote gastrointestinal digestion and relax.
2. High frequency vibration, directly hit deep fat.
3. For all kinds of non-weight.
4. Lose weight and burn fat.
5. Lightweight and easy to use.
Specifications:

Pulse frequency: 1-6000HzPulse

Width: 30-150us

Output power: 18W

Charging power supply: DC 5V 1A (USB)
Package includes:

Massager*1

Description*1

USB charging cable*1