When you are alone at home or in a hotel, are you afraid of an intruder?
Now, simply place the Alarmstuub behind any door or window and rest assured!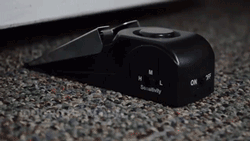 Door Stop Alarm is a door stopper type alarm that able to produce a shrill high-pitched voice. The door stop alarm is powered by 9V battery. It is very practical and durable, one piece of battery can be used for a year under normal circumstances.
If an intruder attempts to open the door, the wedge-shaped design will prevent it from opening and activate a 120 dB alarm.
The alarm will scare off the would-be intruder and alert you to the attempted entry.

This is a stainless steel cover door stop alarm. Just put the alarm under the door and turn on the switch.
Benefit
A loud alert system that deters intruders
Great for home & travel
Portable and easy to install
Works as a door-stop and an alarm
Features
Multi-Purpose - it is suitable for home, office, hotel and motel room or any other place that needs to be secured from the inside
Great For Travel - this alarm has the perfect size to fit any bag and it can be easily carried around
Multi-Use - can be used as a door blocker or door holder if you turn off the sound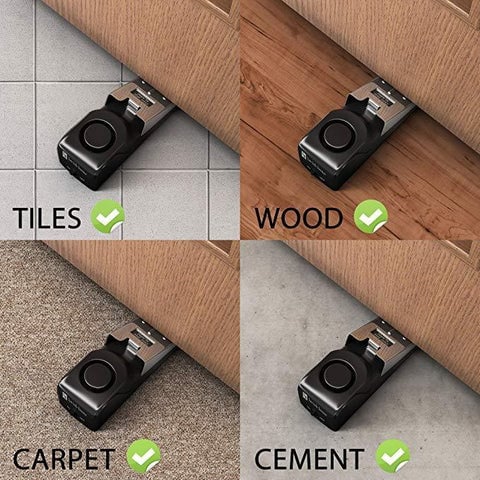 Easy To Use - place it beneath the door, turn it on and sleep tight
Wedge-Shape Design - the alarm will fit any hinged door
Different Surfaces - it is suitable to stand on tiles, wood, cement, carpet
Three Sensitivity Levels - low, medium and high, with an adjustable sensitivity switch on the side
Durable - made of quality metal material
It Will Not Damage Your Door Or Floor
Has A High Damping Rubber At The Bottom That Will Stop The Movement
It Has A Vibration Sensor
Specification
Material: stainless steel, plastic
Color: black
Size: 14 cm x 4.5 cm ×4cm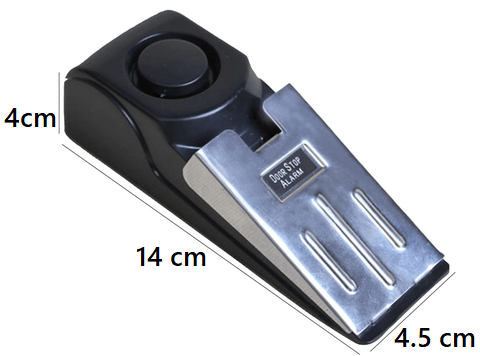 Weight: about 90g
Powered By: 1 x 9V battery (not included)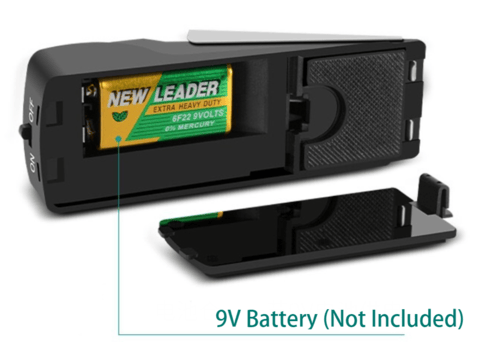 The Volume Of The Alarm: 120 dB
Package Included