Features:1.High Sensitivity:
The signal detector adopted the advanced smart chip, and it is more delicate and you can find the exact suspicious device at a fixed point by adjusting the sensitivity intensity and a wide detection range (1MHz-6.5GHz). This camera detector is a perfect defender to protect your privacy.This detector device can be use for home, hotel, car, bathroom, toilet etc.
2.Multifunctional Detection:
The 3-in-1 detector provides multifunctional detection, including infrared scanning, RF wireless signal detection, and magnetic field signal detection. With high sensitivity and wide frequency detection range, the signal detector can accurately detect 1.2G to 5.8G wireless or wired surveillance camera, GPS locators, car trackers, magnetic suction positioner and bug, 2G/3G/4G mobile phone SIM card bug, various eavesdroppers, and other equipment.
3.Easy to Carry:
The design of the camera detector is humanized, which alerts you with indicator light, vibration or beep when the suspicious RF wireless signal or magnetic field signal is detected. The special infrared lens and LED infrared lamp will help you scan the invisible wired or wireless camera. The sensitivity can be adjusted to meet the detection range. It's lightweight, portable size, and easy to carry.
4.Wide Applications:
This anti-spy RF detector can be used in hotel, bathroom, dressing room, government organs, business negotiation, school invigilation, places of entertainment, workshop, military industrial facilities, etc. Wherever and whenever you don't trust surroundings, the detector can help you feel secure. It's a heart-warming gift for business people, politicians, girlfriends, lovers, college students, children and girls.
5. After-sale Service:
If you have any questions about our products or instructions for use, please feel free to contact us. We will give you the most satisfactory solution within 24 hours (usually within 12 hours).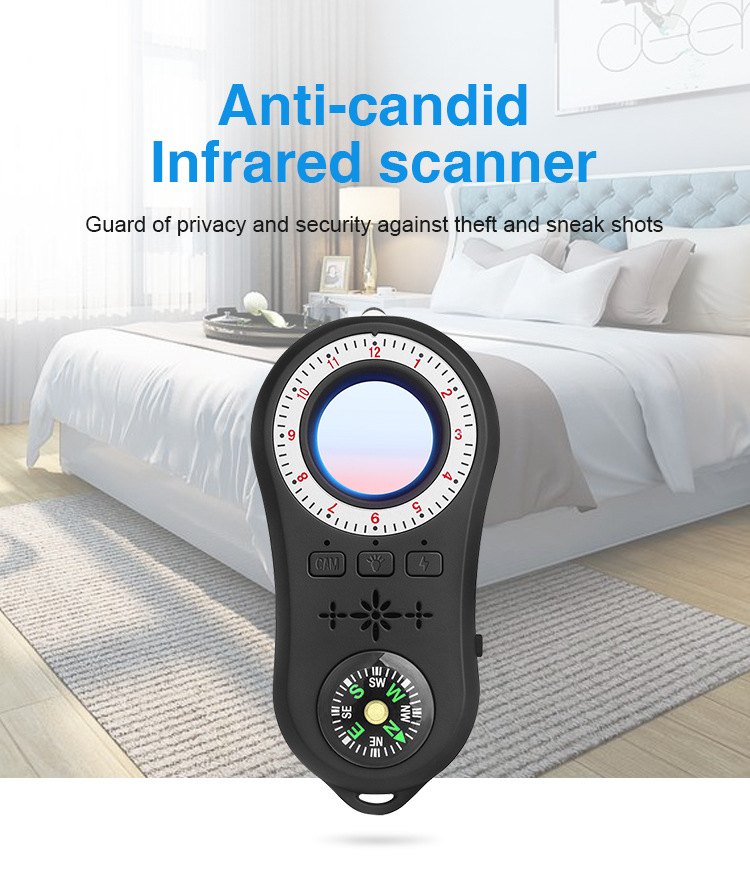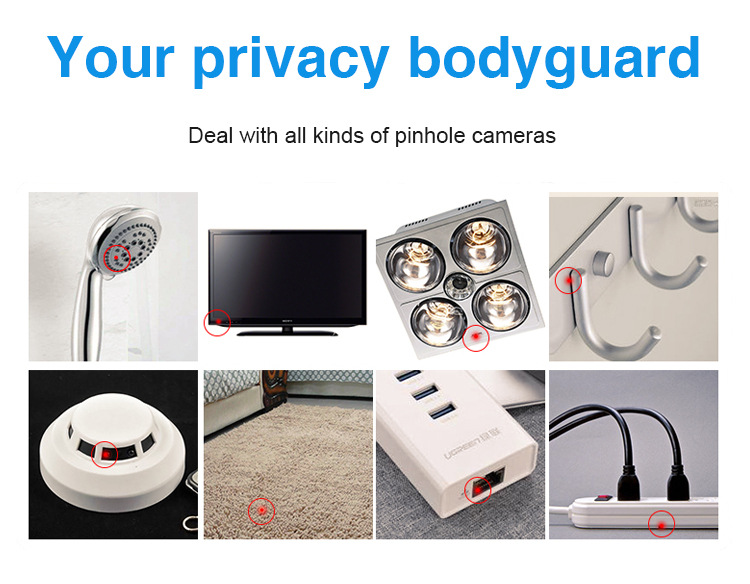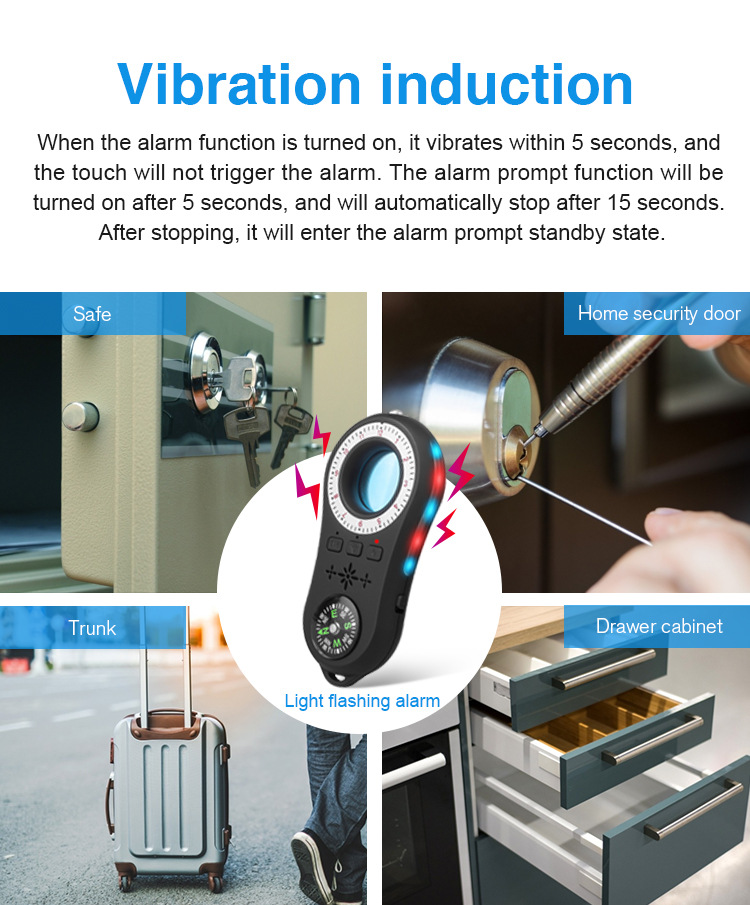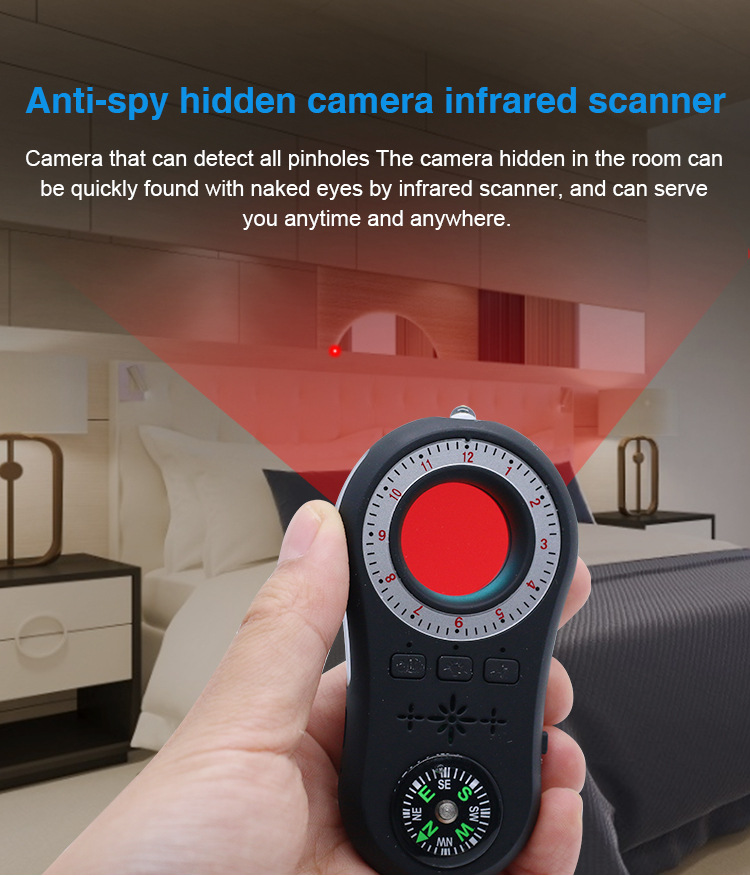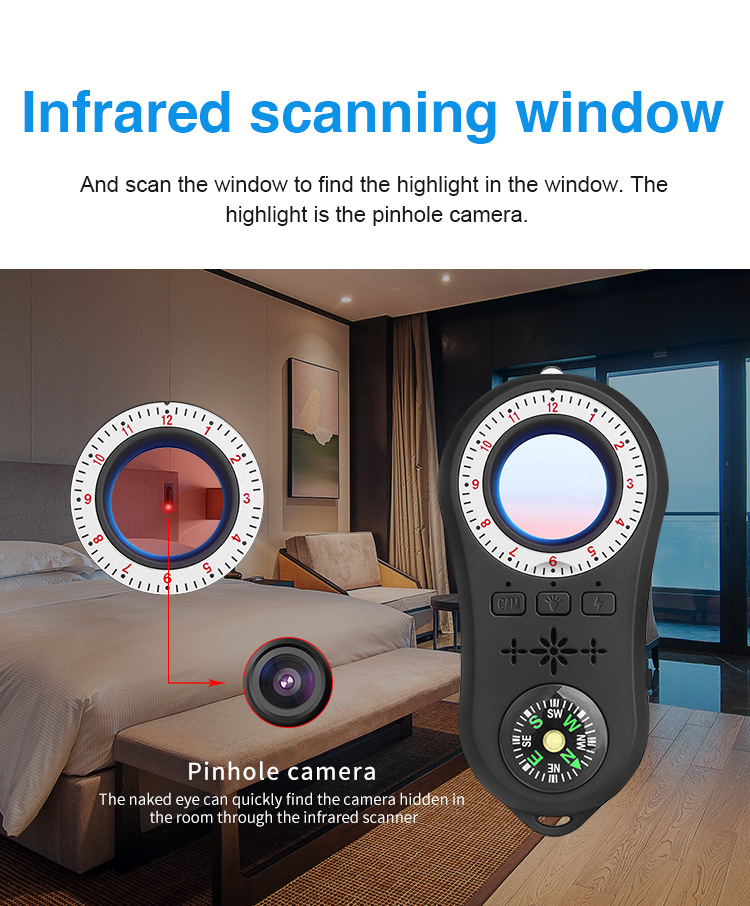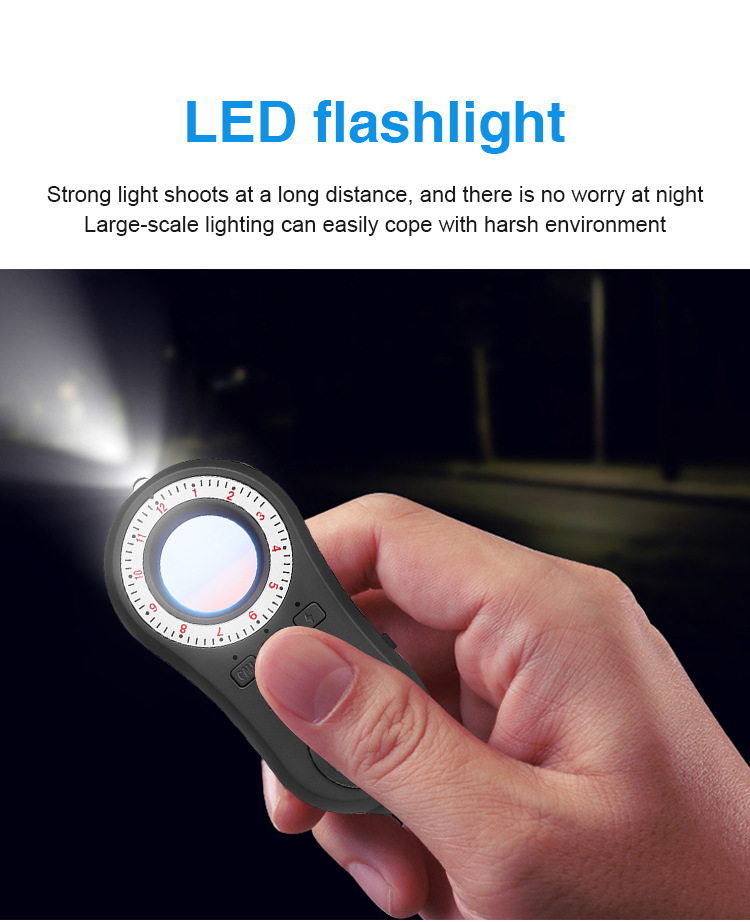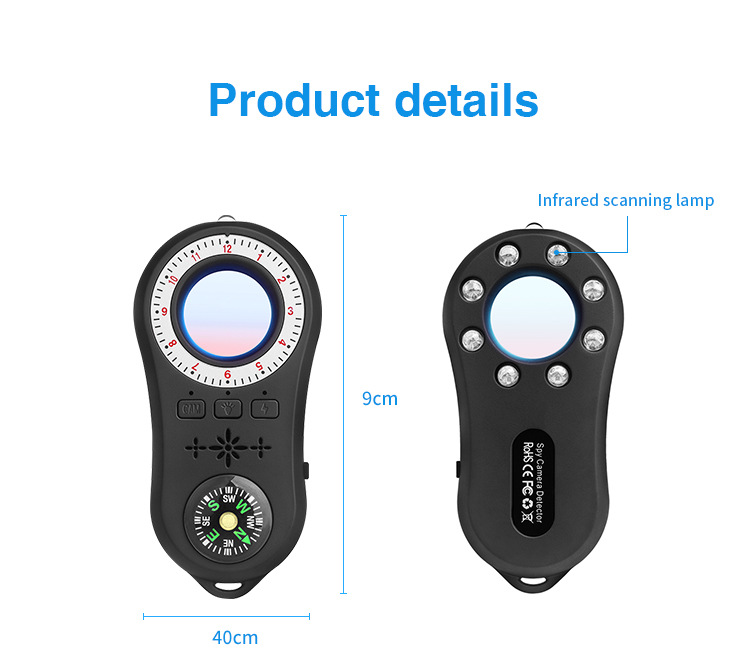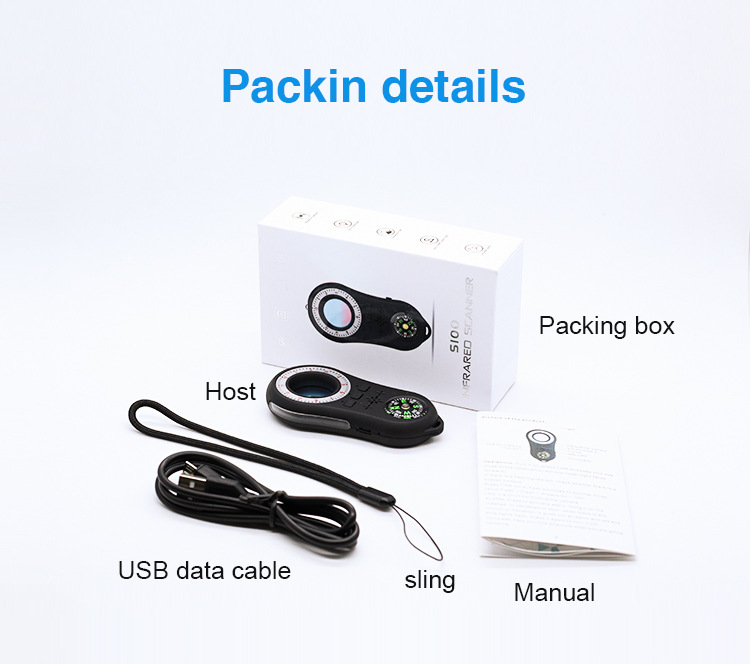 Specifications:
Size: about 82x45x13cm/32.28x17.72x5.12in
Weight: about 26g
Material: ABS
Battery capacity: 300MA
Working current: 50MA
Charging time: 2 hours continuous work 6-8 hours
Vibration sensor LED: F5
Working range: 15m
Functions:
1. Turn on the switch and press the CAM button to bring the eyes closer to the observation window, and the infrared is facing forward.
If there is a flashing red dot, check whether there is a camera.
Each time you press the CAM button, the flash mode is switched.
2.The button LED is a simple flashlight to find the camera.
Press the alarm button to activate the thief alarm to hang the device on a valuable suitcase or door with a mobile or vibrating device flashing red and blue alarms, and then press to close.
In addition, it has the travel compass, burglar alarm, reminder, flashlight functions.
Packing List:
1*Detector
1*Charging Cable
1*Hand Strap
1*Manual