USB & Solar Charging
: You can charge this camping lantern via USB and solar energy. 
The mosquito lamp has a 1800 mAh lithium battery that only takes 2-3 hours of charging time to work 6-10 hours of continuous operation. This is very convenient and environmentally friendly.
Multi-Function Insect Killer
: Bug zapper is a combination of camping light and UV mosquito killer
Emergency lighting and there are 3 levels of Adjustable brightness
. (100% high lighting, 60% medium lighting and SOS mode), adapts to any situation when you are outside.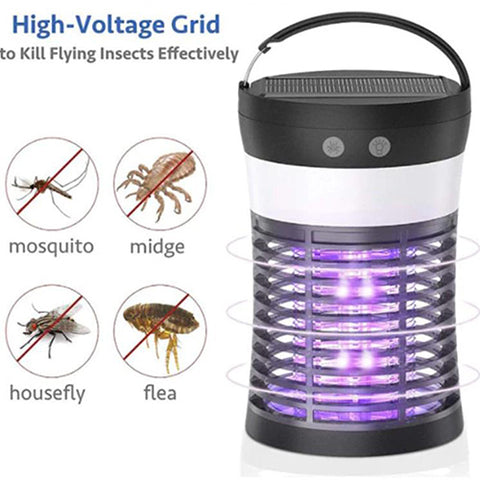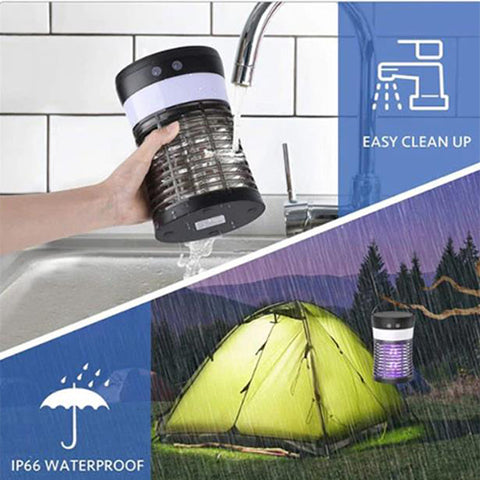 IP66 Waterproof & Easy to Clean: The mosquito killer light has a full-body waterproof function and can be cleaned with a tap. 
It can also be used outdoors without worrying about it being damaged by rain.The mosquito killer is equipped with a small brush that can clean mosquitoes.
Safe and Effective: Comes with a UV wavelength of 365-395 nm. The purple light attracts insects, then kill it immediately, which has been scientifically proven to be highly attractive to insects. 
100% physical method of killing fly insects. It is environmentally friendly and safe for pregnant women, children and animals. Enjoy an insect-free environment.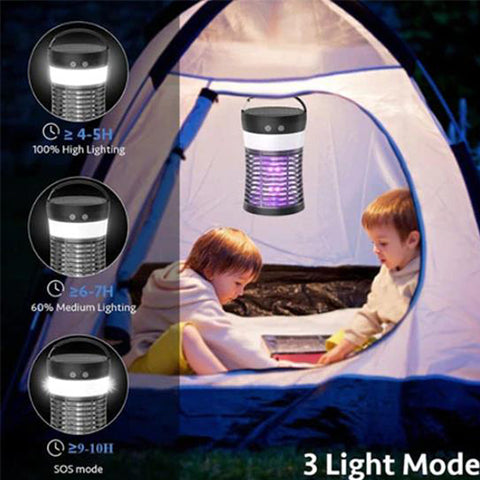 Applicable Environment: The handle design allows you to hang it on an outdoor tent, wall or table.
This electric bug zapper protection your home, kitchens, schools, hospitals, restaurants etc, free from annoying flies, also suitable for outdoor, camping, hiking, fishing, and traveling use.
Material: PC+ABS+Silicone
Battery capacity: 1800mAH
Lighting power: 0.5w*32
Mosquito killing power: 0.5w*8
Package:
1*Solar Powered Bug Zapper Outdoor