Increase the level of your security system! Keep an eye on everything from anywhere with our HD Brand New Camera
Many people want to improve their home security but can't afford to invest in one of the market's costly security systems. Our Light Bulb Security Camera solves this problem almost instantaneously. Allows you to record instantly when and where surveillance is required. With built-in motion detection, auto-tracking technology, infrared night vision, and two-way communication Has everything you need, all installed in seconds.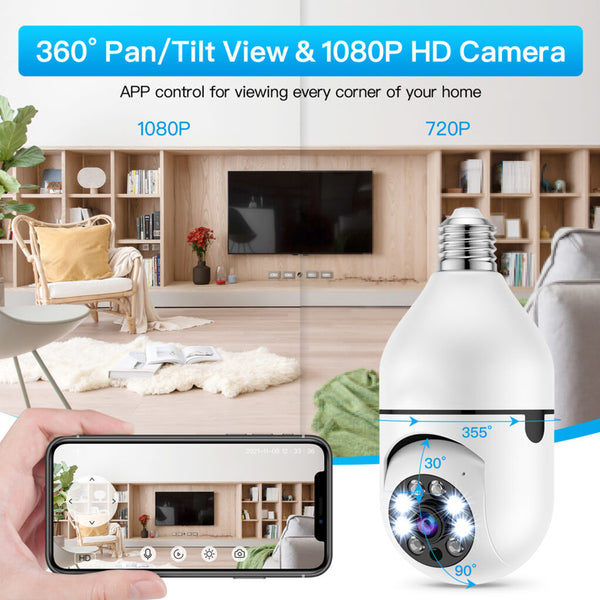 - FEATURES :
Fast Installation & Setup: As easy as replacing a light bulb to install the light bulb camera, and set up within 1 minute. Simple to control, and a breeze to maintain. Compatible with 2.4GHz WiFI network. 5GHz NOT SUPPORTED. Download "Tuya Smart" app from App Store or Google Play. If you have any questions, please contact us by email. We provide lifetime technical support and service.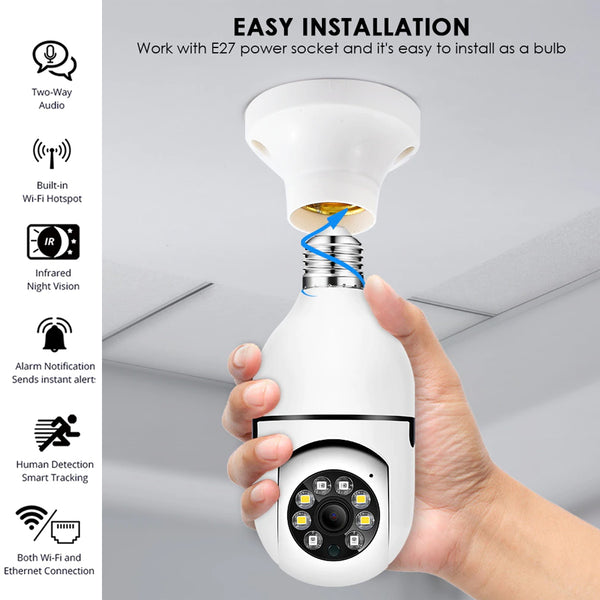 360° Motion Tracking: Automatically senses and tracks the action in your indoor/outdoor in full 360°. our security camera has wide field of view – rotates 355° horizontally and 120° vertically. Pan/Tilt/Zoom/Light/Talk/Playback easily with the App installed in your phone.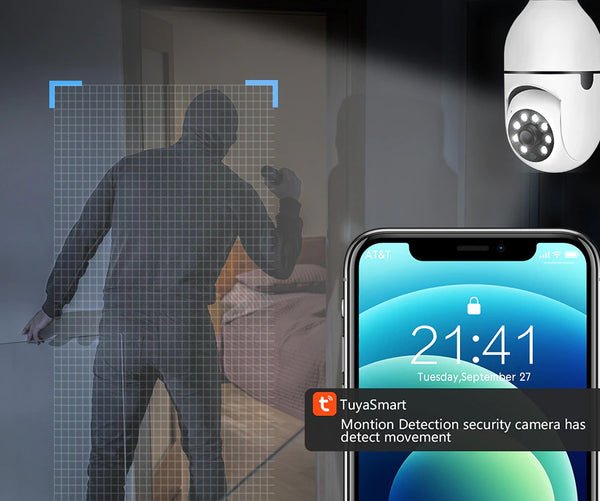 1080P FHD & NIGHT VISION: 1080P Full HD security camera provides crystal clear videos and recordings. Quality infrared LEDs & Sensor extend the range of night vision reach up to 33 ft, lets you see everything clearly even in the dark, and the lights turn on automatically when you are coming.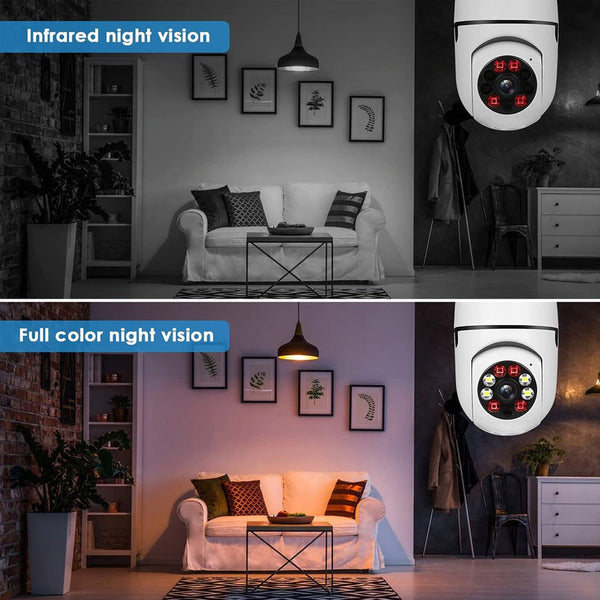 Video Privacy Guarantee: Video and Accounts are encrypted using a unique encryption technology to save video on micro SD card (Not included) or Cloud. Even if your camera light bulb or SD card is stolen, the video files in the SD card can only be accessed in your own account. Maintain the security of your home and keep your data and privacy secure.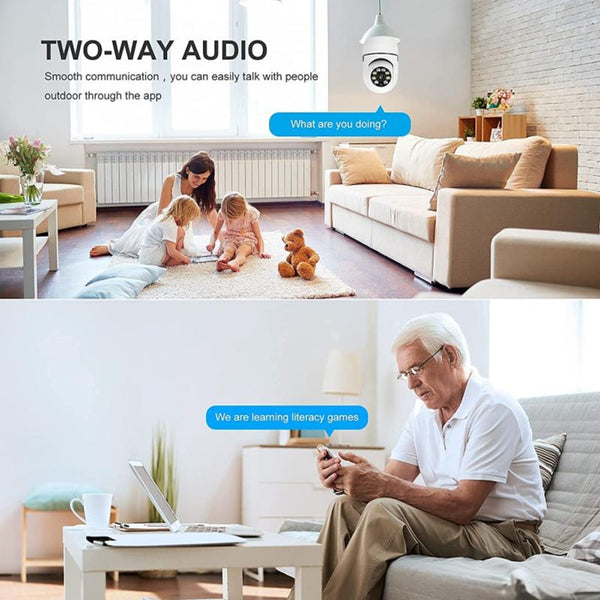 Real-time Alert & 2-Way Audio: Motion alerts will be sent to your device while you're away to keep you informed of every potential danger at your home. You can work with peace of mind by Bulb Camera WiFi indoor, which allows you to keep in touch with your family or pets anywhere anytime with built-in speaker.
All this features and it the best thing is that it Cost-Effective, so what are you waiting for ? Improve your security without breaking the bank! Our Security Camera Light Bulb has all what you need in a fraction of price.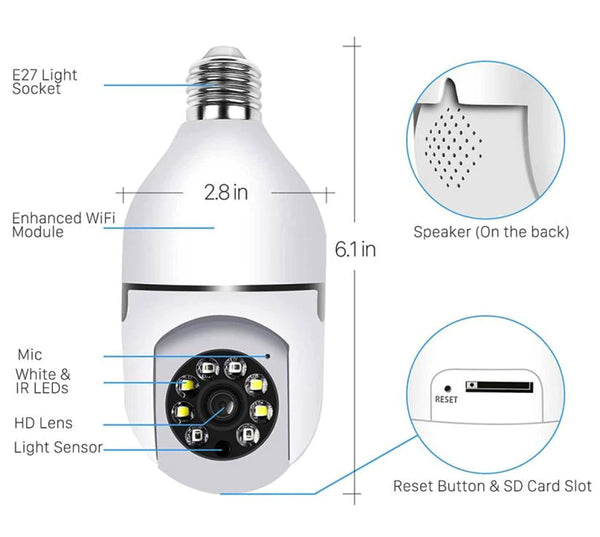 - PRODUCT SPECIFICATIONS
Resolution: High Definition 1080P Full HD / 30 FPS
Night Vision: Dual light Source , infrared + Full color with a range of 33 Ft (= 10m)
Two way audio
Connectivity : WiFi/802.11/b/g - AP Hotspot
installation with socket E27 Bulb Base
Storage: SD Memory Card (Max 128G - Not included ) / Cloud Storage
support Android/IOS/PC
Luminance: 12000 Lumen
Waterproof Rating: IP66 ( but we recommend to covered in for outdoor uses )
Made with Premium Quality ABS and High-Quality Glass
The package include :
1 x Surveillance security Camera
1 x E27 Bulb Socket
2 x Installation tools
1 x Instructions book
- IS ONE CAMERA ENOUGH FOR MY HOME ?
Depending on the use you had in mind, we advise buying at least two or more units one for the front door and another for the backyard in order to maximize the area of protection.
If you frequently leave the house, we advise placing a light bulb camera at each main door. However, if you only want to keep an eye on your baby's nursery, one camera will suffice.